The Kickoff Meeting of Russia-China "One Belt One Road" Satellite Navigation Joint Testing Project Successfully Held in Beijing
---
Recently, the kickoff meeting of Russia-China "One Belt One Road" Satellite Navigation Joint Testing Project (on Chinese side) was successfully held in Beijing. Representatives for both sides discussed the satellite navigation testing work plan and officially initiated the joint testing project. The testing work was conducted by China Satellite Navigation Office- Testing & Assessment Research Center (CSNO-TARC) and Xinjiang Tourism Investment Management co. LTD, and was also strongly supported by some leading equipment companies such as UniStrong, BDStar Navigation, ComNav and Harxon. The next step is the system integration & adjustment and its preparation work. The synchronized dynamic testing with Russia is scheduled to begin in August 2017, where the Chinese testing route starts from Xi'an and ends in Horgas Pass, and the Russian route starts from Moscow and ends in Novosibirsk.
Russia-China Joint Testing Project designs to create a satellite testing & assessment platform and tries to bring BDS into countries along the One Belt One Road. Local government departments, scientific research institutions, business enterprises and end users in these countries share opportunities to perceive, test and utilize BDS. This project may support the BDS initiative for serving countries along the One Belt One Road and further promote the international influences of BDS.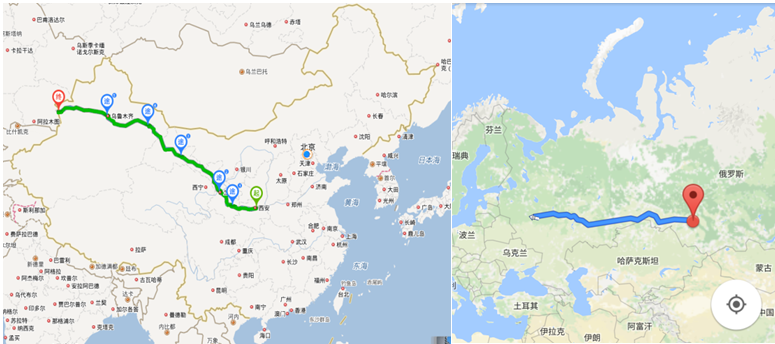 As a self-constructed and self-operated global navigation satellite system, BDS provides all weather capability, continuous availability, high-precision positioning & navigation and timing service with global coverage. "China's Beidou, the world's Beidou". By far, the service area of BDS could cover a large amount of countries along One Belt One Road. The full coverage in these regions is designed to accomplish when reaching a constellation size of 18 satellites around 2018.
CSNO-TARC serves as the Chinese group leader in Monitoring & Assessment Working Group of Russia-China Project Committee on Cooperation in Satellite Navigation. The communication and coordination with Russia in early stage was carried out with the Russian group leader, Central Research Institute of Machine Building (TsNIIMash). Apart from system joint testing, both sides will work in collaboration on satellite navigation service performance standards and BDS/GNSS information sharing & publishing, as well as the development of high-precision system monitoring equipment.